Enchanter
From SoDWiki
Enchanter
Class archetype

Caster

Armor class

Silk




Preferenced statistics

Title at level 51

Illusionist

Title at level 55

Beguiler

Title at level 60

Phantasmist

Title at level 65

Coercer
Enchanter Links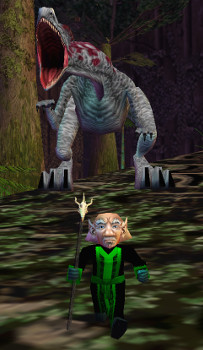 Enchanters shine in challenging situations where they can make full use of their crowd control abilities. The enchanter's strength lies in his spells. Through casting them, he is capable of tricking enemies into fighting on his side, summoning a floating sword-and-shield pet, casting direct damage spells, granting himself and others illusionary appearances, and much more.
However most XP groups prefer to churn through hordes of trivial mobs that don't require crowd control. Furthermore most crowd control on raids is done using feign splitting. In these situations enchanters spend most of their time trying to add DPS through some combination of pet damage (including charm) and the use of two specialty spells, Spell: Somatic Bond and Spell: Runic: Avatar of Destruction, which allow the enchanter to "piggyback" on the damage output of their groupmates.
Starting Statistics
The Enchanter class receives 30 starting points to distribute in the various stats. The stats that the game deems important to the class are Intelligence and Charisma. Intelligence determines the total mana you can hold, and Charisma is used for charming as well as determining a mobs resistance to your spells. The effect of higher Charisma is noticeable, even in the early levels.
Skills
(*) Does not follow the 5(lvl+1) skill-up formula.
Combat Skills

Class Skills

Other Skills